From Tartan to Buffalo Check: How to Wear Plaid Clothing
Plaid clothing is a timeless trend that can add a touch of elegance to your furry friend's wardrobe. In this blog, we'll explore popular plaid patterns for dogs, including buffalo plaid, gingham, houndstooth, checkerboard, and tartan. Discover how to make your pup the most fashionable on the block with cozy plaid clothing like pajamas, chic dresses, and more!
Buffalo Plaid
Featuring a classic two-tone square check pattern in red and black, Buffalo plaid is a popular plaid. This enduring design is frequently used for dog apparel like pajamas, dresses, and sweaters, adding a stylish touch to your furry friend's wardrobe.
Snuggle up in these warm and inviting buffalo plaid pajamas - perfect for a relaxing night in by the fire.
Instagram: maltipoo.kona
Stay cozy and celebrate with the class buffalo plaid dress - a "never go wrong" plaid clothing when dressing up for holiday celebrations. 
Bundle up in style with the buffalo plaid sweater - a plaid clothing wardrobe essential for chilly days and outdoor adventures.
Tartan
A classic plaid pattern, features distinctive intersecting stripes in varying colors and widths. With its traditional vibe, it's perfect for dressing up your pup on casual outings or festive gatherings, including holidays and events with a traditional theme.
Wrap your pet in the elegance of this tartan dress - the perfect festive outfit for Christmas.
Be the center of attention in this fiery red tartan dress - a bold and confident choice for any fashionista.
Experience the perfect combination of comfort and fashion with this tartan coat - a must-have for any chilly day.
Gingham
If you want to dress up your dog in a cute and simple style, gingham is a good choice. The even, eye-catching, and vibrant patterns create a relaxed and laid-back vibe. It is ideal for creating a refreshing touch to any outfit or picnic setup. Gingham is often associated with summer dresses and chill picnic outfits, perfect for any casual occasion.
Make a statement with this stunning gingham dress - a perfect combination of comfort and plaid clothing that's perfect for a picnic and a chilling park day.
Houndstooth
Classic black and white plaid pattern houndstooth is a popular choice for winter clothes like sweaters and jackets. The textile pattern of broken checks or four-pointed shapes levels up elegance. Dress up your dog for formal occasions with houndstooth plaid clothing, and make your furry friend stand out in this stylish pattern.
Stay chic and cozy in the cold - the perfect plaid clothing addition to your pet's cold-weather wardrobe.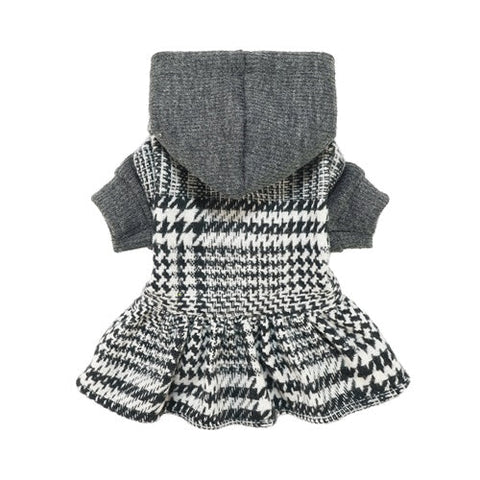 Step out in style this winter with the houndstooth coat dress - a chic and cozy plaid clothing way to stay warm while turning heads.
Instagram: iggychelseaandme
Checkerboard
If you and your pet are into cool styles, the checkerboard plaids are perfect. The bold and graphic pattern represents streetwear and skater culture, featuring two-tone squares in black and white. Checkerboard plaid is a fun and playful pattern that can be worn in many styles, from hoodies to sweaters, providing a cool look for your pet.
Being cool in the street - the perfect addition for streetwear style.
Instagram: tinkerbellethedog
Plaid is an enduring fashion choice that provides style and adaptability for your beloved pet. Explore various patterns and craft distinctive ensembles for all events. Embrace this trend, spark your imagination, and delight in the fashionable fun alongside your furry companion!
---