Discover the Latest Trends in Yorkie Designer Clothes
Looking for the perfect Yorkie designer clothes to make your beloved pet look chic and fashionable? With a wide range of options available, it's never been easier to find the right outfit for your furry companion. In this blog post, we'll guide you through some popular trends in Yorkie designer clothes that not only look fabulous but are also comfortable for your pet. Let's dive in!
Luxurious Yorkie Sweaters for Cozy Comfort
When it comes to Yorkie designer clothes, cozy sweaters are a must-have for every pet's wardrobe. High-quality materials like knitted or fleece will keep your pup warm during colder months and make them look stylish at the same time. Choose from various colors, patterns, and sizes to find the perfect sweater that suits your pet's personality.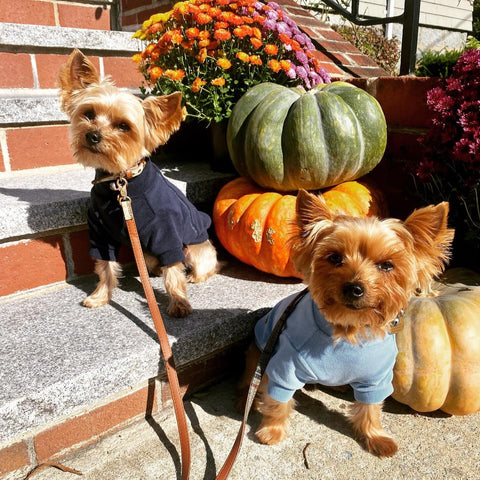 Instagram: gggrumble.of.pugsss
Trendy Yorkie Designer Clothes: Stylish Harness Dresses
Harness dresses are a popular choice for Yorkie designer clothes as they combine fashion with function. Look for dresses featuring beautiful embroidery, unique patterns, or eye-catching colors, and don't forget to ensure the harness is comfortable and adjustable. These stylish outfits are perfect for daily walks and special occasions, making your Yorkie the center of attention.
Stylish Hoodies and T-Shirts for Your Pooch
Give your pet a unique look with a selection of Yorkie clothes that showcase their personality. Hoodies featuring playful designs and patterns contribute to a distinctive fashion statement. Choose options with soft and breathable fabrics, ensuring your Yorkie stays comfortable and stylish in their attire.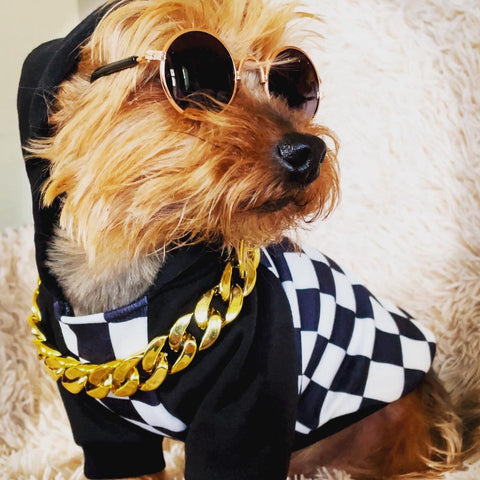 Instagram: monstertheyorkieterrier
Yorkie Designer Clothes for Bedtime: Adorable Pajamas
Pamper your Yorkie with designer pajamas that combine style and comfort. Soft, cozy fabrics ensure a good night's sleep, while various patterns and sizes cater to your pet's individual style. From classic plaid prints to playful animal designs, there's a perfect pair of pajamas for every Yorkie.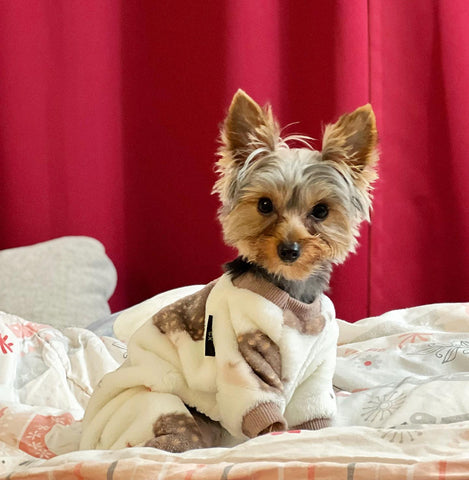 Instagram: viewz.of.eevee
Fancy Dresses for Yorkie Designer Clothes Enthusiasts
For those special occasions when your Yorkie needs to dress up, a collection of fancy dresses is essential. Look for elegant designs featuring layers of delicate ruffles, stylish bows, or shimmering sequins. These dresses are perfect for celebrations, photoshoots, or any event where your Yorkie needs to look their best.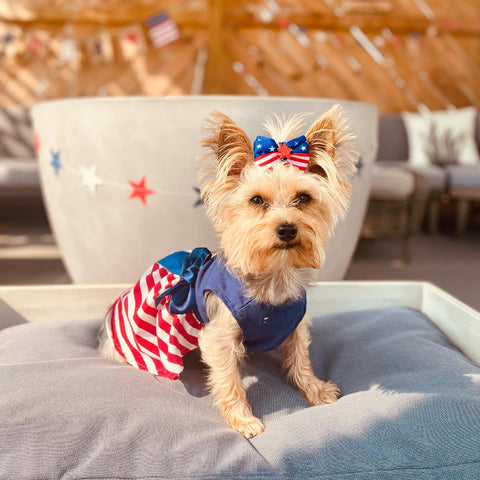 Instagram: princesspicklestheyorkie
Yorkie designer clothes
are a fun way to express your pet's personality and keep them looking stylish. With options ranging from cozy sweaters and harness dresses to personalized apparel and adorable pajamas, there's something for every Yorkie owner to love. Explore the latest trends in Yorkie designer clothes today and find the perfect outfit to pamper your pooch. Don't forget to share your favorite styles with fellow Yorkie enthusiasts in the comments below!
---