French Bulldog Wardrobe Essentials: Must-Have Clothes
Are you a proud owner of a French Bulldog? If so, you're already aware that these adorable pups are among the most fashionable breeds available. They have a unique shape and a playful personality, making them an ideal good fit for a fashionable outfit.
We're excited to share our incredible selection of
French Bulldog clothes
in this blog post, as well as some tips on how to dress your Frenchie with style. Prepare to take your pet's style to the next level!
Why Should You Dress Up Your French Bulldog?
Before we get into the exciting world of
French Bulldog clothes
, let's talk about why you should consider dressing up your French Bulldog. First, clothing can help keep your French puppy warm and protected from the cause they have short fur, especially during cooler months. Additionally, dressing up your pup can be a fun and creative way to express your own personal style and make them stand out in a crowd. It can also serve as a bonding activity between you and your furry friend, helping to strengthen your relationship.
Turtleneck Sailor Striped Sweater
Fitwarm Must-Have Frenchie Clothes
Designer French Bulldog Clothes
Fitwarm recognizes that your French Bulldog is more than just a pet; it is a beloved member of your family. That's why Fitwarm dedicated to creating premium
French Bulldog clothes
that are not only fashionable, but also made of high-quality materials that will not harm your pet. In all of our designs, we prioritize your puppy's comfort and well-being.
Our designer pet clothes collection includes a variety of stylish outfits for any occasion, from formal wear to casual wear, that will set your Frenchie apart from the crowd. We understand that your Frenchie's style is as individual as their personality, and we are dedicated to providing
French Bulldog clothes
that reflect that.
Buffalo Plaid Pajamas
French Bulldog Clothes for Daily Wear
Are you looking for something cozy and casual for your French puppy? Our collection of
French Bulldog clothes
is perfect for those relaxed days when you want your pup to look stylish yet comfortable. Whether it's a cozy hoodie or a soft pajama, our casual
French Bulldog clothes
have everything you need to dress up your Frenchie without going over the top.
Keep your Frenchie warm and stylish with a cozy sweater.
Instagram: stormi.fendi
Treat your Frenchie to a good night's sleep in cute and comfortable pajamas.
Instagram: jujuandnana
Dress your Frenchie in a cool and casual t-shirt for a day out.
French Bulldog Clothes for Special Occasions
Do you have a special occasion coming up and want to dress up your Frenchie? Our holiday collection includes a wide range of formal wear that is perfect for weddings, parties, and other special events. With all the stunning dresses, our special occasion collection has something for every Frenchie.
Holiday theme: Dress your Frenchie up in festive attire with holiday-themed clothes.
Birthday: Celebrate your Frenchie's special day in style with fun and colorful birthday clothes.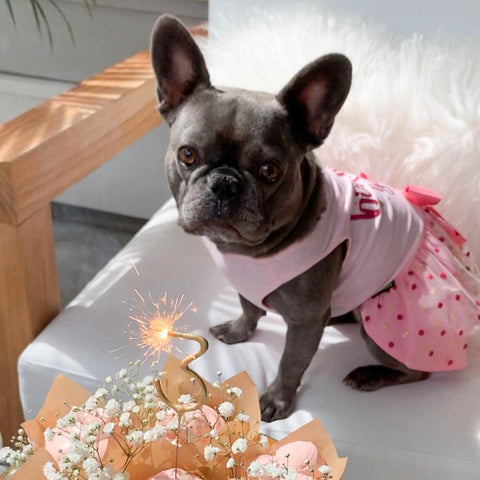 Instagram: loulou.thefrenchie
Tips When Choosing French Bulldog Clothes
Choosing the right
French Bulldog clothes
can be a challenge, but it doesn't have to be. When choosing clothes for your Frenchie, it's important to consider their size and personality. You want to choose clothes that fit well, are comfortable, and reflect your Frenchie's unique style.
Dress Up Your Frenchie with Style and Individuality
Dressing up your
French Bulldog
in trendy
clothes
is a great way to show off their uniqueness and charm. Our extensive selection of
French Bulldog clothes
ensures that you'll find the perfect outfit for your dog companion.
Check out the French Bulldog clothes at fitwarm.com now and get the best for your Frenchie.
---