Fashionable & Convenient Dog Halloween Costumes: Perfecting Your Pet's Holiday Style
Tired of the same old dramatic dog Halloween costumes? So were we. That's why we've created a collection that perfectly blends comfort, style, and a sprinkle of Halloween cheer.
With everything from spirited t-shirts to elegant dresses, cozy sweaters, and fun cheerleader costumes, we're redefining Halloween attire for our four-legged companions.
The Best of Both Worlds: Comfort and Style
Our costumes are all about comfort, like a second skin, so your dog can get into the Halloween spirit without feeling out of sorts. But we didn't stop at comfort, we also made sure they're super trendy. And the cherry on top? They aren't just for Halloween. Your pet can rock these stylish outfits all fall long. How cool is that?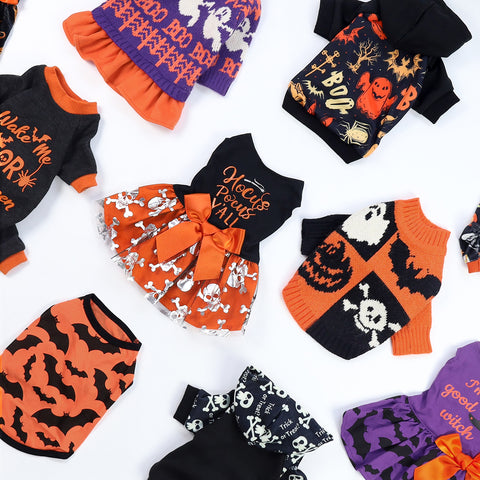 T-Shirt Time: Keep It Simple and Comfy
T-shirts can be dog Halloween costumes, too! Our Halloween-themed dog t-shirts capture the holiday spirit while offering a level of comfort that's hard to beat. With prints like grinning pumpkins and playful ghosts, these t-shirts are a fun and fuss-free take on dog Halloween costumes.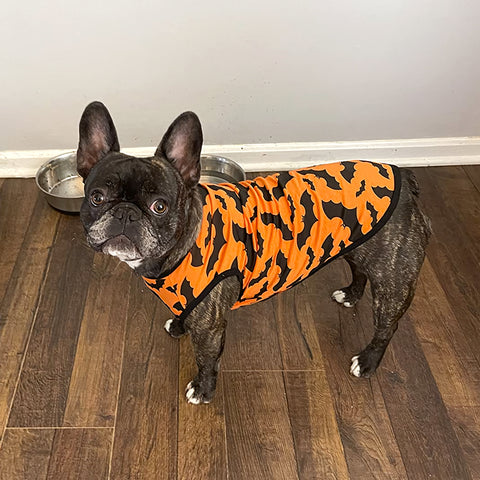 Halloween Bat Vest
Adorned with bats, this playful doggy tee promises to bring a fun twist to your pet's Halloween escapades.
Dress to Impress: Elegance Meets Fun
Dog Halloween costumes can be elegant, and our Halloween-themed dog dresses prove it. These dresses go beyond ordinary clothing. They're a fashion statement, designed to let your pet celebrate the season in style. Our dresses feature playful patterns and adorable motifs that put a unique spin on dog Halloween costumes.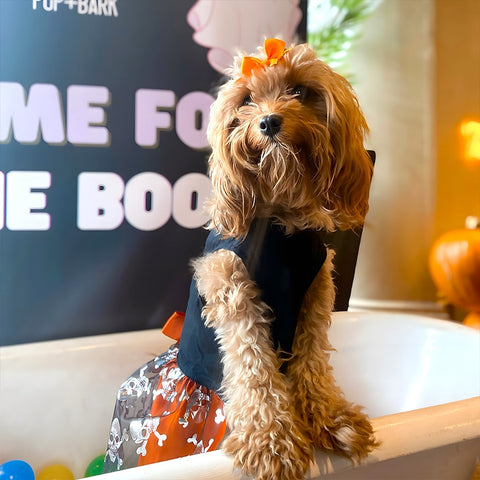 Instagram: miloandmarnie_
With a tulle layer in skeleton patterns, this costume adds a touch of elegance to your pet's Halloween look.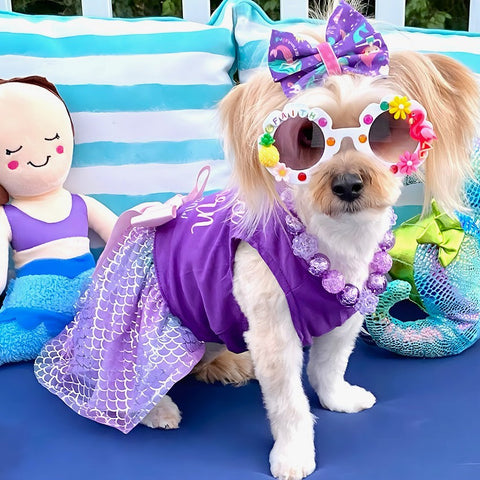 Instagram: friendly.faith.the.morkie
Looking for a standout Halloween outfit? Our mermaid dress will ensure your pet makes waves at any event!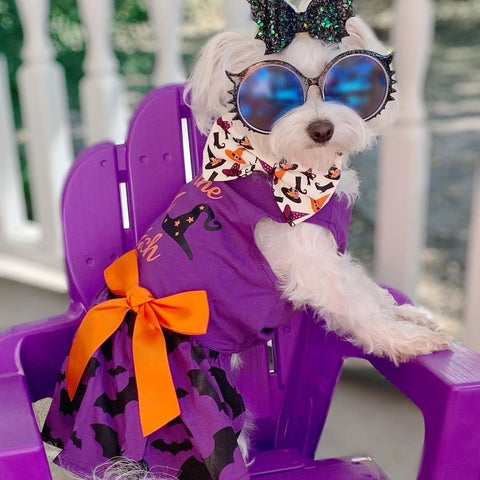 Instagram: hattiemaethemorkie
In a witchy mood? This dress, paired with a witch hat, makes your pet the most charming good witch around!
Welcome the Chill: Cozy Up with Our Sweaters
When autumn's chill starts to bite, our Halloween-themed dog sweaters step in as warm and cozy dog Halloween costumes. They're the perfect mix of fun Halloween prints and coziness, ensuring your furry friend stays warm and stylish all season. Perfect for a chilly evening walk or post-trick-or-treat cuddles, these sweaters offer a new take on dog Halloween costumes.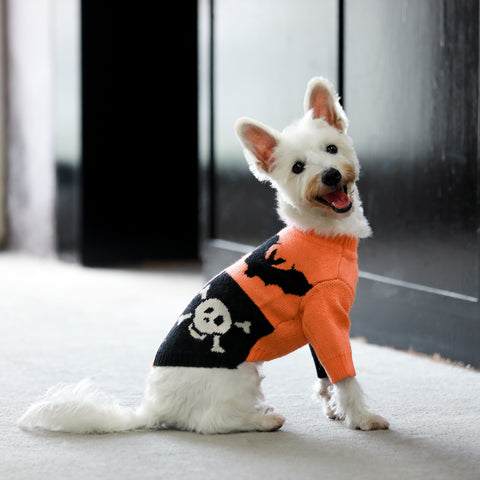 Featuring spooky ghosts, bats, pumpkins, and skeletons, this snug sweater is your pet's ticket to stay cozy and bask in the Halloween spirit!
Dreaming of Halloween: Pajamas for Pooches
Let's not forget about those cozy nights in this Halloween season! Our Halloween-themed dog pajamas are the perfect blend of comfort and holiday spirit for your dog's nighttime attire. These aren't your average dog Halloween costumes. They're super comfortable, allowing your pet to snooze peacefully while staying in the Halloween spirit.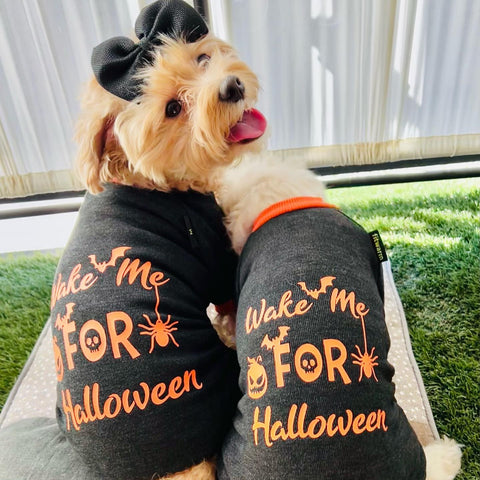 Instagram: baylia_maltipoo
For a low-key Halloween at home, our cozy spider-print pajamas are the perfect blend of comfy and spooky!
Transform your pet into a charming milk cow with our cozy pajamas and matching accessories, it's adorable!
Head-turning Hoodies: Keeping Cozy with Halloween Flair
For those crisp autumn walks, our Halloween-themed dog hoodies are a must-have. These hoodies take dog Halloween costumes to a new level of warmth and style. They feature Halloween-inspired prints and designs that capture the essence of the season. The hood adds an extra touch of warmth and makes your dog's Halloween costume stand out in a crowd.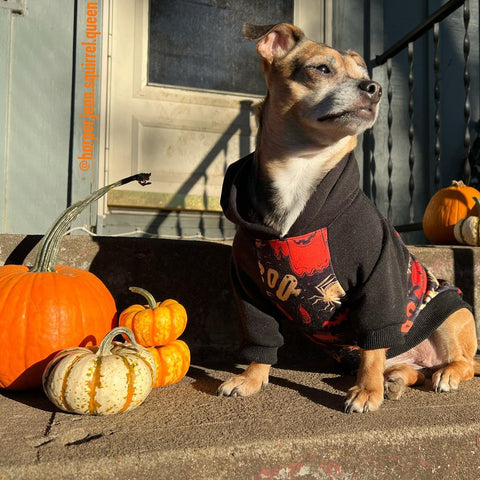 Instagram: harper.jean.squirrel.queen
Sporting a Halloween hoodie is a cozy, chic way to enjoy the spooky season in style.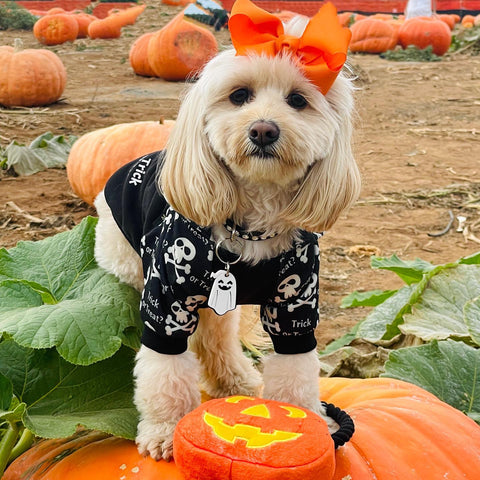 Instagram: baileythequarendoggo
Slip into a black hoodie and grab some glow in the dark props for an effortlessly spooky vibe.
Bring the Cheer: Stand Out with Our Cheerleader Costumes
We're raising the bar on dog Halloween costumes with our cheerleader outfits. We've blended fun, playful designs with festive colors to make any Halloween event cheerier. Our cheerleader costumes are comfortable and cute, just the thing for the dog who loves to be in the spotlight.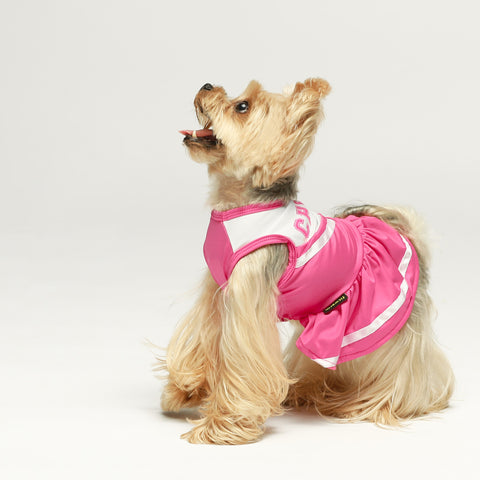 Get ready for Halloween with this Cheerleader Costume Dress, turning your furry friend into the cutest, most spirited cheerleader on the block!
Our outfits let your furry friends join in the fun with comfort and style. Don't wait—give your pet a new way to enjoy Halloween with our collection of dog Halloween costumes.
After all, a happy pet is a part of what makes a home, especially during the spookiest time of the year!
---