Beat the Heat: Perfect Dog Cooling Vests for Ultimate Summer Comfort
Summer is here, and it's time to head outdoors for some fun in the sun with your furry friend. However, hot temperatures can pose a risk to your dog's health, especially during activities like beach outings, hiking, or picnics. That's where dog cooling vests come into play. In this blog, we'll explore the benefits of using a dog cooling vest, how it works, and our top recommendations for keeping your dog comfortable and safe in warm weather.
Discover the Benefits of Cooling Vests
A dog cooling vest offers numerous benefits for your pet during the warmer months. They help prevent heatstroke and dehydration by keeping your dog's body temperature regulated. Additionally, a cooling vest allows your pet to engage in outdoor activities, such as hiking or playing on the beach, without overheating. Dog cooling vests are also great for dogs with thick fur or short snouts, who are more susceptible to heat-related issues.
How Dog Cooling Vests Keep Your Pet Comfortable
The primary purpose of a dog cooling vest is to offer effective sun protection for your pet. These vests are designed to shield your dog from harmful sun rays by incorporating materials with SPF or UV-resistant properties. By wearing a cooling vest, your dog can stay comfortable and protected while enjoying outdoor activities.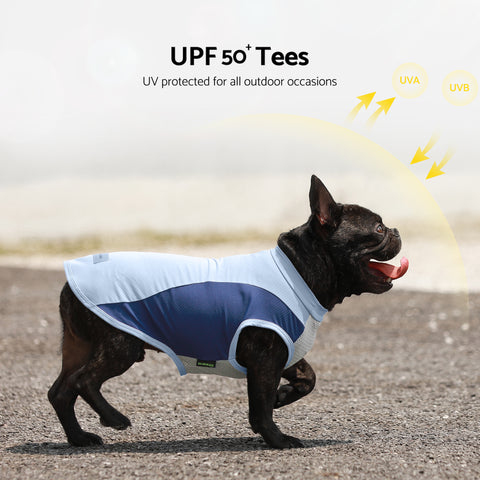 Top Dog Cooling Vests for Unrivaled Comfort and Protection
When looking for the perfect dog cooling vest, consider factors like fit, material, durability, and additional features such as sun protection or a built-in shirt. A high-quality dog cooling vest should be quick-drying, have a cool texture, and be stretchy, breathable, soft, and lightweight to ensure maximum comfort for your pet during hot summer days.
Here are our top recommendations, including our very own line of cooling vests:
Basic Cooling Outfits
2-Pack Athletic Lightweight Running Tee
Our running tees are crafted in sportswear fabric, which makes them lightweight and quick-drying. Its superior breathability keeps pets cool even on the hottest days. The 2-pack t-shirts are available in multiple colors, with shiny patterns that make them an athleisure icon.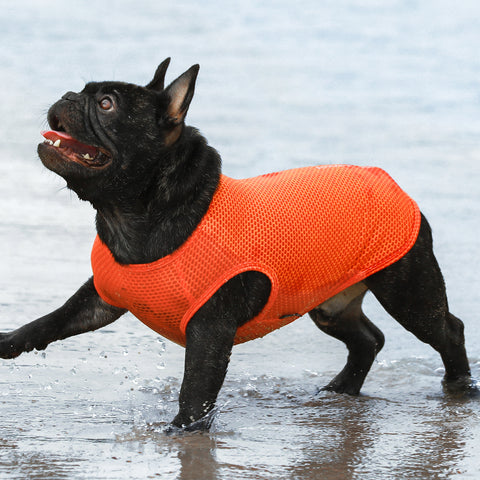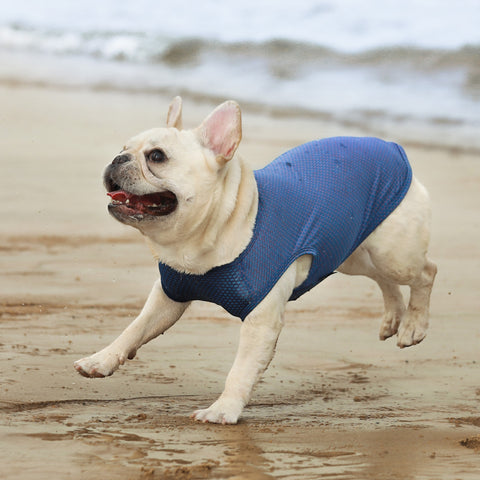 2 Piece Athleisure Leopard Dress 
Breathable and comfortable, this product is designed to provide a second-skin feel with its sleek and stretchy fabric. It also features mesh fabric for added breathability and a cool texture, making it an ideal choice for summer days.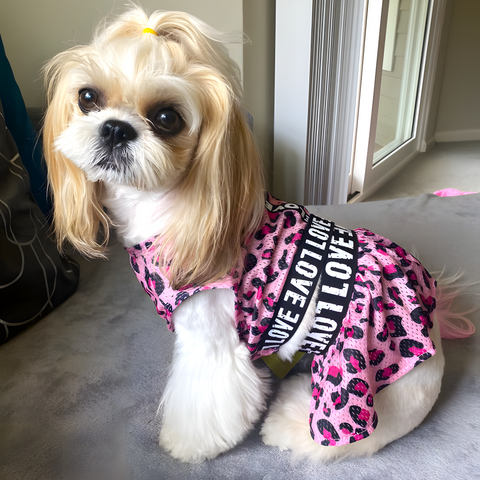 Instagram: wakanda_shihtzu
Designed UV-Protective Vest
2-Pack UV Sun Protection Shirts
2-pack color block doggy tank tops designed to provide superior sun protection and added security during walks.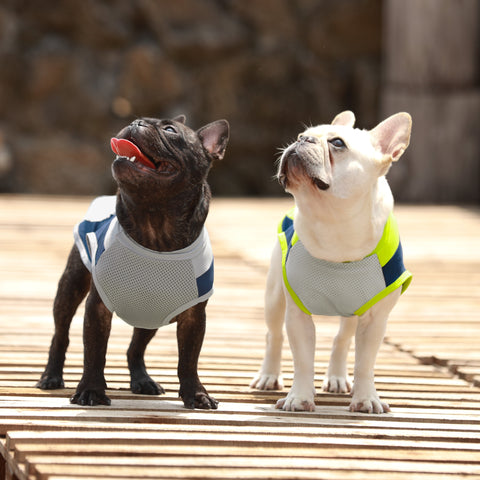 How do these shirts protect our pets?
Crafted in UPF 50+ fabrics, these tank tops effectively protect your pet from the sun's harmful UV rays. The cool texture and fast-drying sportswear and mesh fabric in splice styles keep your pet comfortable during hot summer days. Additionally, the tank tops feature a reflective label, which makes your pet visible during low-light conditions or at night.
Help your furry friend beat the heat and enjoy outdoor activities safely with our innovative line of dog cooling vests. Choose from a variety of options to find the perfect vest for your dog's summer adventures. Invest in our cooling vests for your pet's well-being and style this summer!
---